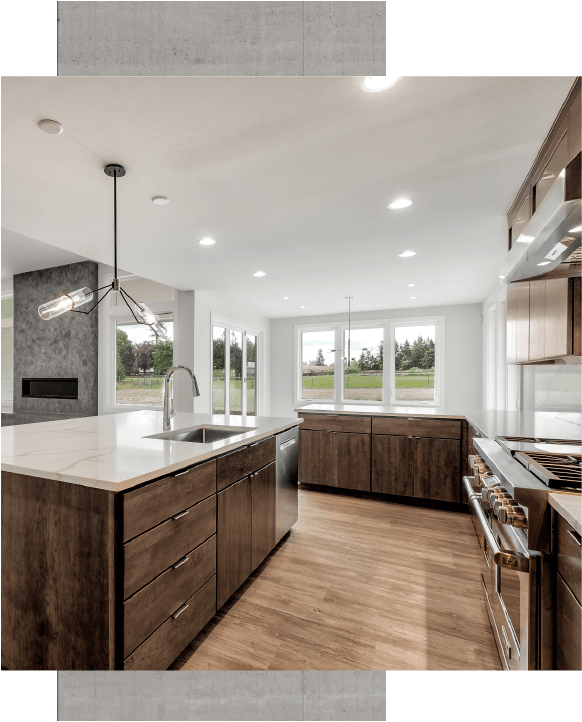 Our office is conveniently located in Tacoma, Washington, which allows us to serve all areas of Western Washington, as well as many areas of Eastern Washington.
Our staff has successfully built over 1,500 homes, residential complexes, and commercial buildings. Whether you are ready to begin construction today or just want to discus a potential project for the future, we invite you to contact us to learn more about how we can help you.
We utilize the most current construction methods available to help us in our work, with the goal of providing our customers a high quality product, efficiently built within the client's budget.
"After meeting with several builders, we chose Edge Construction to build our forever home. The main reason is….at our very first meeting, they gave unique suggestions and presented several different options for details that we were hoping to accomplish. We incorporated many of those suggestions into our home and could not be happier that we did. During construction, the site was always clean and, all of the Subcontractors we met with, had high praise for Edge Construction - especially, for how well they coordinated their projects. We are extremely happy with the end result and, if we had it to all over again, we would definitely use Edge Construction as our Builder! Thank You Edge Construction!"
"Super thankful we were able to work with Bryan and Vanessa at Edge Construction. They were calming for us in any stressful moments and made sure we loved everything about our home while sticking to our budget. They even quickly and compassionately came to our rescue after I flooded our ground floor only 8 months after completion. Oops! We continue to love our home because of the detail those two put into it. I recommend Edge to anyone thinking of building and I would work with them again in a heartbeat."
"We had a great experience working with the Edge team on the construction of our custom home. Bryan was able to guide us through the multiple decision points, explain our options, and provided solid recommendations based on his experience and expertise. The result was a beautiful and well crafted new home that matched our vision and dreams. We would highly recommend Bryan and his team if you're looking to build."
"For most people remodeling or building a home will be the single largest investment a person will make. Even though my wife and I purchased our dream property we knew we had a major remodel challenge ahead of us to make the 1963 house the home we wanted. I thought about being the general myself but eventually concluded I was out of my comfort zone when we realized the extent of the remodel ahead of us. It took us a year to settle on a design, engineering, and interviewing contractors to bid it. I shared the plans with Bryan Brown of Edge Construction and he appeared confident he could meet our expectations as the General Contractor. I also visited several of his properties under varying stages of construction and liked what I saw. Because of his previous work, referrals, demonstrated expertise and professional demeanor we felt we could trust him. The project required significant demo and we took the home down to the studs, raised the ceiling/roof, replaced all the wiring, plumbing, sheet rock, windows & doors, flooring, fireplace, kitchen, siding, etc, added ~1000 sq ft. and two car garage. Budget and schedule were typically a challenge but Bryan always treated us fairly and was transparent with the costs. Bryan and his team were easily accessible during the entire remodel. Essentially we built a new home and moved in October 2018. All-in all Edge Construction exceeded our expectations and we are very pleased with the final product. I would highly recommend Bryan Brown and Edge Construction."
"Outstanding experience working with Edge Construction! Bryan Brown and his team helped make the process of building a cabin painless and fun! Over and over they guided us into decisions that paid dividends down the road. His lead house framer was amazing and even drove up by himself on the weekend to figure out our stairs, and they are perfect. Bryan works with an outstanding team of contractors that do excellent work and get the job done. We were also impressed with their complete transparency for costs and details of the project, and they were ALWAYS available by phone, text, and email. We were done on schedule and inside the budget we planned. Can't recommend them enough."